IDP Protection Assessment Report | Displacement in Carmen, North Cotabato (AFP vs JMWA) | Issue no. 01
After the series of tactical operations conducted by the joint forces of the Armed Forces of the Philippines (AFP) and the Moro Islamic Liberation Front – Bangsamoro Islamic Armed Forces (MILF-BIAF) against pro-Islamic State (IS) groups in the province of Maguindanao (see IDP Protection Assessment Report: Armed conflict and Protracted Displacement in Central Mindanao – AFP and MILF vs. JMWA, Issue No. 1 dated 10 October 2017), another operation was launched in North Cotabato province on the 8th of November.
Around 164 families (820 individuals) were forcibly displaced from Carmen, North Cotabato and found refuge in Barangay Liwali, in the municipality of Aleosan in the same province, when the AFP launched airstrikes in two remote villages of Carmen against members of an IS-supporter group who were reportedly sighted amassing in the area. The armed group involved is the Jamaatul Muhajeerin Wal Ansar (JMWA), a breakaway faction of the Bangsamoro Islamic Freedom Fighters (BIFF) led by Esmael Abdulmalik (alias Commander Abu Turaife) who has reportedly pledged allegiance to the Islamic State. JMWA members were reportedly sighted in the forested borders of Barangay Tonganon and Bentangan – boundary barangays between the municipalities of Carmen and Aleosan.
Following continuous AFP airstrikes against the JMWA on 11 and 18 November, the number of families displaced by the fighting in Aleosan and Carmen has increased to 268 (estimated 2,372 individuals) as of this report.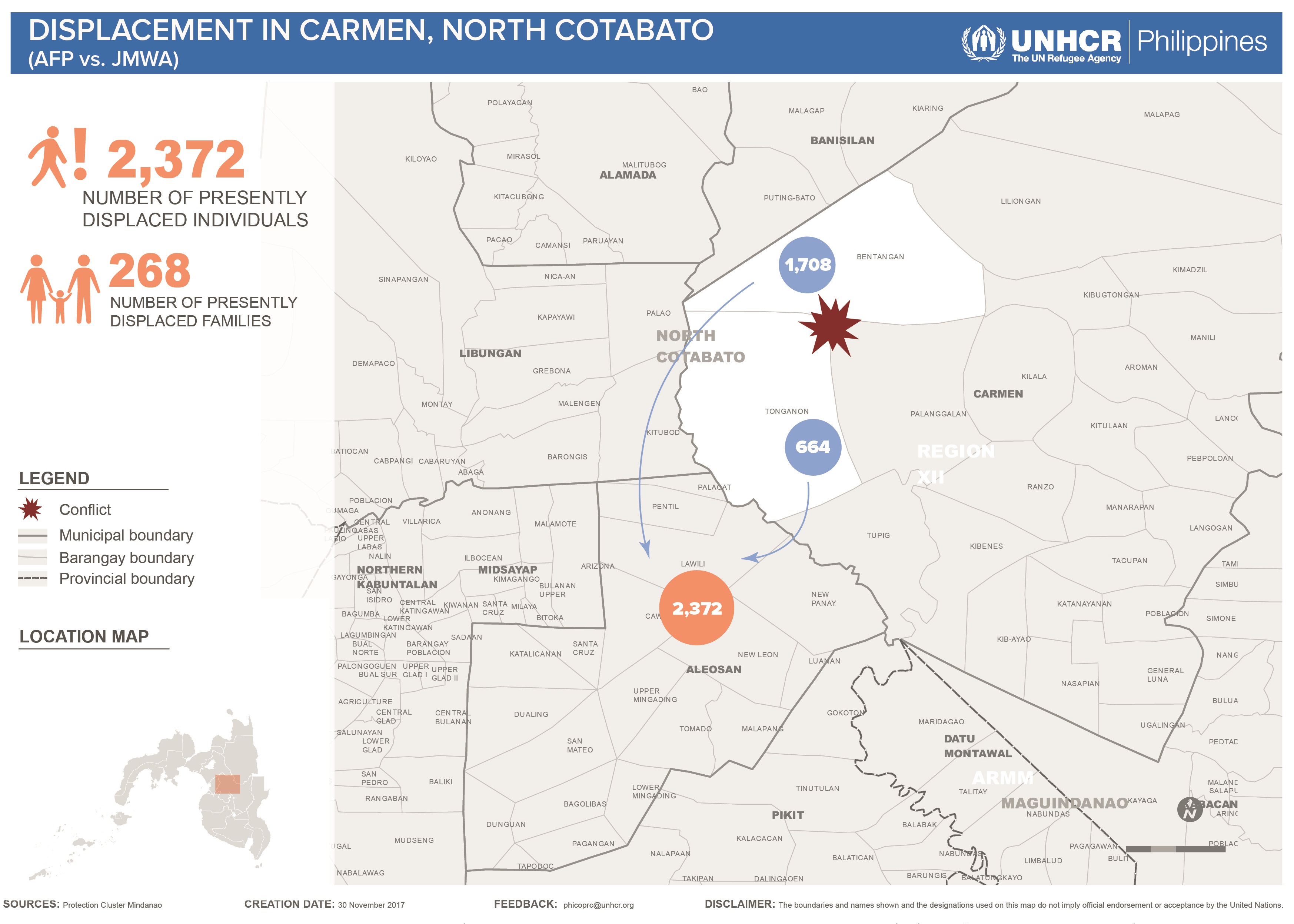 IDP Protection Assessment Report | Displacement in Carmen, North Cotabato (AFP vs JMWA) Issue No. 1